News

15 Apr 2017: I have reintroduced the About Me section with some brief details about myself, the hermit crabs and tank.
14 Apr 2017: I have updated the Blog with my 2017 trip!
09 Apr 2017: The Forums have been upgraded to phpBB 3.2 for better security and features.
Care Sheets

Our very basic care sheet is available for download in Australian and American English. Please refer to our Crab Care section for more thorough explanations.
Referencing

If quoting any text from this website, please reference back to our page with a hyperlink. Do not copy any images without the original photographer's permission.
Gym
What can a gym be used for?
Gyms are entirely optional pieces of equipment. You can put your hermit crabs in them while you are busy cleaning or decorating their tank. You can also feed your hermit crabs messy foods such as mango and honey in the gym and then give them a bath so that they do not drag the food all over the main tank's bedding.
How do I build a gym?
You can make a gym out of a large plastic tub or baby pool. Since your hermit crabs will be staying in the gym for no more than a few hours, you do not have to put bedding in. However, you must keep your hermit crabs warm and humid, so you can either move the heat source or grab a warm odourless towel to wrap up the container. Make sure your hermit crabs cannot climb out of the gym. Mist the air in the gym every now and then with dechlorinated water to keep the humidity up.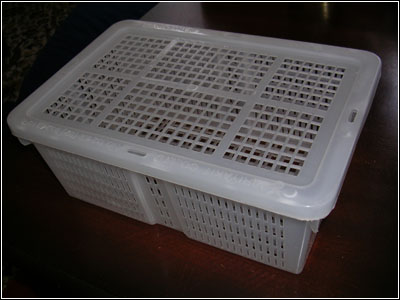 « Back • Next »