Referencing

If quoting any text from this website, please reference back to our page with a hyperlink. Do not copy any images without the original photographer's permission. Plagiarism is an offence that is frowned upon.
Affiliates
LHCOS Sister Sites

Other Helpful Sites

Support Us
We truly appreciate your support! You may use the 90×90 icon above if you wish, but please upload it to your own server.
Gym
What can a gym be used for?
Gyms are entirely optional pieces of equipment. You can put your hermit crabs in them while you are busy cleaning or decorating their tank. You can also feed your hermit crabs messy foods such as mango and honey in the gym and then give them a bath so that they do not drag the food all over the main tank's bedding.
How do I build a gym?
You can make a gym out of a large plastic tub or baby pool. Since your hermit crabs will be staying in the gym for no more than a few hours, you do not have to put bedding in. However, you must keep your hermit crabs warm and humid, so you can either move the heat source or grab a warm odourless towel to wrap up the container. Make sure your hermit crabs cannot climb out of the gym. Mist the air in the gym every now and then with dechlorinated water to keep the humidity up.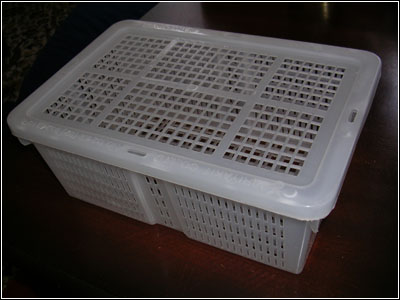 « Back • Next »